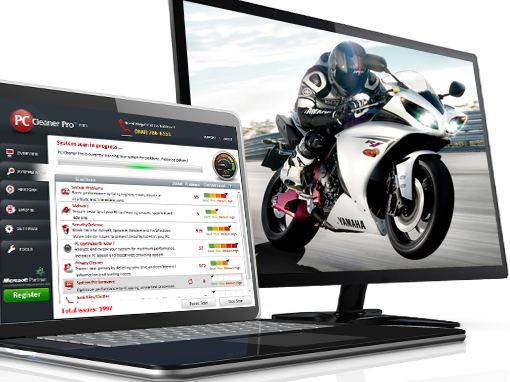 PC Cleaner PRO
We Improve PC's

Speed
Gets it fast. Keeps it fast.
Performance
Stops crashing and freezing

Security
Stay safe and secure. Protect your Privacy and remove Malware

Support
24/7 Live Support. We are here to help!


Fix Your PC
PC Cleaner will safely scan your system Windows registry and finds incorrect or obsolete information in the registry. By removing this obsolete information in Windows registry, your system will perform better.

Registry Cleaners
PC Cleaner will remove unused and old entries, including File Extensions, ActiveX Controls, ClassIDs, ProgIDs, Uninstallers, Shared DLLs, Fonts, Help Files, Application Paths, Icons, Invalid Shortcuts and more.



Increase Your PC's Performance
PC optimization is the quickest way to adjust your system settings at once. PC Cleaner will analyze your system & adjust your PC to function at its maximum potential performance.

Certified Virus + Spyware Protection
Certified Antivirus PC Cleaner Pro will scan your complete system for malicious threats including: viruses, spyware, rogue programs, trojans, adware, rootkit, dialers, worms, parasites and other potentially harmful programs that may be installed on your computer.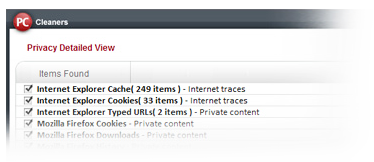 Privacy Protection
PC Cleaner is designed to protect you by cleaning up all the unwanted history data on your computer which could also put you at risk of identity theft.

Automatic Updates
Having a system that is up-to-date is the best way to keep programs running right, to keep errors down and to keep security tight. PC Cleaner Pro updates daily to ensure you you have the most current protection and tools. You can disable this behavior in settings if desired.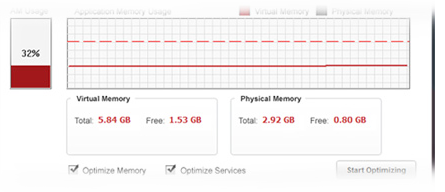 Memory Optimizer
PC Cleaner will optimize your memory and recover wasted memory (RAM), space and improve system performance.

Start Up Manager
Startup Manger allows you control of what programs are launched when you start your computer. You can disable unnecessary programs that are slowing you down.



Uninstall Manager
This feature lets you easily uninstall applications that you don't want from your computer.

Clean Your System
Startup Manger allows you control of what programs are launched when you start your computer. You can disable unnecessary programs that are slowing you down.



Internet Optimizer
PC Cleaner Pro will automatically adjust your internet connections to increase s surfing and download speeds.

Security Defense
PC Cleaner will scan and check for Windows vulnerablities within Windows system. Windows Update is a service provided by Microsoft. Security updates are critical to protect against vulnerabilities to malware and security exploits.



System Optimizer
PC System Optimizer is the fastest way to adjust all your system settings at once. The PC Optimizer works by determining what type of PC you have and what programs you have installed. Then it will adjust system settings to help your machine will function at its maximum capacity.

BHO Manager
Stabilize your browser and speed up web efficiency by managing Browser Helper Objects and Plugins.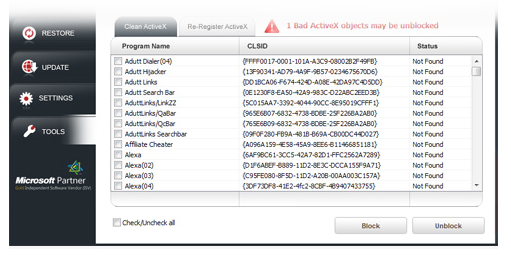 ActiveX Manager
Many ActiveX controls are actually beneficial, but malicious programs frequently use ActiveX controls in order to embed themselves on your system through browser security exploits or compromised security settings. PC Cleaner's definition database contains a comprehensive list of malicious ActiveX objects which will be automatically loaded to the blocked list. This file is updated continuously.

Dedicated Live Support
PC Cleaner is here to assist you with a live Microsoft Certified Technician 24 hours 7 days a week including all holidays. We are here to help! If you have PC issues that our software is not fixing, we have expert techinicans ready to help you solve your PC issues! This service is included wit your PC Cleaner Pro subscription.