Inc 500 Fastest Growing Company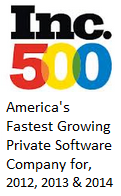 _______________________________________________________________________________
Every year the Inc. 500 celebrates the remarkable achievements of today's entrepreneurial superstars—the men and women leading the 500 fastest-growing private companies in America. For the past 3 years, PC Cleaner Inc. / Netcom3 Global Inc. has been named a member of this exclusive club.
We are proud to annouce our 2014 year rank as #5 Fastest Growing Private company in America.
With our award winning AntiVirus software and #1 Rated PC Cleaner Pro optimization tool and top Premium Support Service it puts us on top off all comepetitors. We strive to be the best of the best and customers satifaction is proof.
You can click here to see our status!